Article, Dialogue, Report
Sudan: consequences of a highly politicized conflict – and little international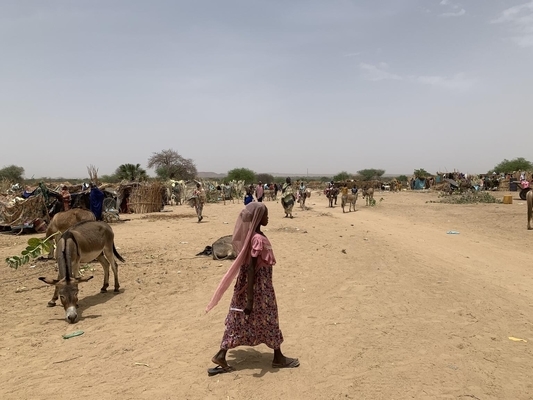 Sudan's ongoing conflict, entering its fifth month, continues to impose a profoundly destructive impact on its citizens. Yet, there is no resolution on the horizon. Instead, there is a daily intensification of hostilities, and the extreme brutality involved remains largely concealed from the international community.
In the meantime, international humanitarian NGOs struggle with access, security and safety issues, especially for local partners and local staff. Furthermore, the complexity of the conflict brings a high risk of politicising aid and the risk of manipulation of resources. And the international community seems not to be very interested: international pressure to stop hostilities, including large scale human right violations, is very limited. To gain a better understanding of this highly politicized conflict, KUNO interviewed two Sudan experts: Anette Hoffmann, Senior Research Fellow, Conflict Research Unit, Clingendael Institute and Leon Willems, Senior Advisor, Free Press Unlimited.
Leon Willems outlines developments in Sudan within a disturbing global trend
The conflict in Sudan can be seen against a backdrop of growing numbers and influence of autocratic governments around the globe (such as Russia, and China), but also on the African continent (with coup governments ruling Mali, Burkina Faso, Niger, Chad and Sudan to name only a few), who are engaged in widespread human rights violations, potentially reaching an unprecedented magnitude. The international response to the crises these regimes cause is slow, indecisive and inadequate. It does not match the urgency of the situation. This is certainly the case in Sudan. The lack of attention in the Dutch mainstream media and the political arena explains and reinforces this mismatch between the scale of Sudan's crisis and the West's response. Nevertheless, there are major causes for concern, due to extensive human rights abuses, the looming threat of a severe food crisis, as well as the huge number of displacements.
The international response to the crises these regimes cause is slow, indecisive and inadequate.
Anette Hoffmann, sets the scene from a perspective on the ground, which is characterised by complexity
The conflict in Sudan, which began as a power struggle between two generals, has three dimensions that are particularly relevant when discussing the provision of humanitarian aid:
–  A War Against Civilians: The conflict involves a war against civilians, where both warring parties intentionally target civilians: Indiscriminately through air strikes in densely populated areas (SAF) and by using people's homes as human shields (RSF) but also in a targeted manner by arresting, torturing and killing civilians that offer services to those in need: journalists, doctors, nurses, human rights activists.
–  Ethnic Warfare: Ethnic conflicts are resurfacing, leading to attacks and systematic ethnic cleansing campaigns, namely in Darfur. This poses a dangerous situation that needs to be considered if humanitarian aid is to be prevented from becoming a weapon of war.
–  Competition Over Resources: Besides political supremacy, the two warring generals also fight over the business empires they have built over the years. They use violent means to defend their access to and control over these resources such as gold (mines), money, and fuel. They are likely to fight for aid as well.
Amidst this complexity, the division between good and bad blurred, as both factions initially united against civilian rule to protect their positions of power and resources. Later, they turned against each other because of economic competition, leading to more hostilities. The situation is fundamentally political; a ceasefire is necessary to prevent loss of life and access those in need. But humanitarian diplomacy cannot and should not replace high-level political negotiation for a political solution to the conflict. Yet, to date, Sudan continues to rank too low on the political agenda of Western policy makers, including the EU and EU Member States.
Leon Willems states that Sudan needs joint action to prioritise Sudan's political situation on the global agenda
The international community must step up its efforts to support peace negotiations; notably, the EU can apply high-level pressure for political mediation and economic influence via sanctions that target RSF and SAF-affiliated companies and individuals that finance this war. However, the international community appears not interested. The international community's lack of attention can be explained in part by the media and the destruction of information channels. The current conflict has exacerbated the eradication of the information sector; the existing widespread disinformation and a significant decline in media freedom (the majority of media is under direct or indirect Islamic control) have increased dramatically. Most independent journalists have fled the country due to constant harassment and threats, and both military and non-state armed groups obstruct the free flow of information.
What sets the current conflict apart from previous conflicts in Sudan, is its geographical shift towards the capital region and the continuous fighting in Khartoum. Previous large-scale conflicts in Sudan never touched the capital and its inhabitants. But concentrated on proxy warfare in the periphery. At the same time, Sudanese observers indicate, the current conflict is metastasising with heavy fighting in the peripheral regions of Darfur and South Kordofan. Due to communication blackouts, it is very difficult to get a better understanding of the situation in rural areas. However, based on the scarce information we have, evidence from Darfur indicates that entire villages have been burned down, a chilling reminder of the genocide that took place in Darfur in 2004. Air strikes, however, have been limited to the capital (until early September). Yet, in a centralised state like Sudan, the massive destruction of infrastructure in the capital has also significant implications for service provision across the country. The conflict is damaging infrastructure and disrupting essential service provisions, affecting the overall well-being of the population.
Anette Hoffmann continues that the Sudanese citizens and organisations are sharing their last resources
Yet, local actors lack access to resources to respond adequately. At the same time, international sanctions hinder international NGOs from transferring money to these local actors. Yet, the role local actors could play in Sudan can be really significant. International NGOs could channel aid, including cash transfers, to local actors across all territories; it is possible to "Swift and Swap" financial support via Sudan's private sector; humanitarian NGOs could engage with diaspora and those who've fled to neighbouring countries; and finally, local volunteers, such as Sudanese Doctors associations, could monitor distribution of aid.
The role local actors could play in Sudan can be really significant.
Further reading

Date: 17th of October 2023
Author: Marianne Sijtsma